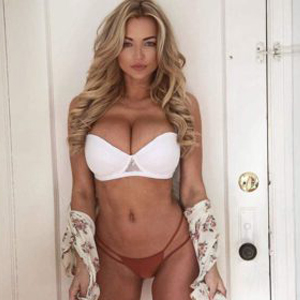 Are you looking for the perfect companion, who can also be your confidante, has an amazing sexual experience, and is a High-Class Courtesan? Nadine can be all of those things. But she prefers to see herself as the girl next door, that little natural beauty with a great sense of humor who loves to laugh.
She is a beautiful person who cares less about her hair and wardrobe and more about making others feel special by opening her heart, her mind, and her slightly parted lips. Behind her beautiful blue eyes and dazzling bright smile, Nadine is also very intelligent with an uncanny sense of humor.
She attracts looks wherever she goes with her femininity and sexiness. A slender body and a pretty face are also traits of this elegant and confident Mature escort in Vegas, who is experienced with a keen interest in novel experiences. Nadine is someone who also understands that true beauty comes from within and that is ever so evident in the way she kisses, the way she embraces her partner, which always shows her ability to love deeply, and her desire to connect intimately. She is quite jovial and loves making others and she laughs.
Details
Gender Female
Age 26
Height 5'8″
Weight 125
Hair Color Dirty Blonde
Eye Color Blue
Services
Availability To Men, Couples
Availability Outcall
Affiliation Independent
Location Available Las Vegas
Contact Nadine
Thank You! We will contact you shortly.