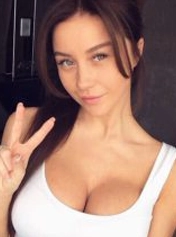 Stef ticks all the boxes, that is, stunning, sexy, and beautiful. She is one of the Best Las Vegas escorts you will ever get to enjoy. She has the confidence in herself to suit almost any sensual or erotic desire and has a passion that comes from the heart in abundance. When you happen to encounter the sexually charged Stef, you won't be able to know where to start. If you are from Australia and looking for cuddles, feisty and devious, then she is for you. Stef is indeed a beautiful and classy young Australian female who has warmth and soulfulness that can simply cultivate you. She is a wonderful listener and can communicate. She is the type of girl who is able to suit any situation, but when the lights go down, this vivacious young woman can give passion a whole new meaning. Stef is a beautiful, young, and open-minded escort, she loves playing the naughty schoolgirl and is very adventurous. She laughs every moment and always receives wonderful feedback. She is nothing short of pure sex appeal that is available for singles and doubles. Everyone raves about her cute and adorable face; therefore you should also be the judge and have a feel to let us know how you think about it. Whether looking for a sophisticated dinner date, an exciting weekend, or a secret escape for an hour of tantalizing pleasure she is a perfect choice. If you consider yourself a gentleman who enjoys indulging in this standard of luxury, she would love to hear from you.
Details
Gender Female
Age 22
Height 5'7″
Weight 100
Hair Color Brunette
Eye Color Blue
Services
Availability To Men, Couples
Availability Outcall
Affiliation Independent
Location Available Las Vegas
Contact Stef
Thank You! We will contact you shortly.